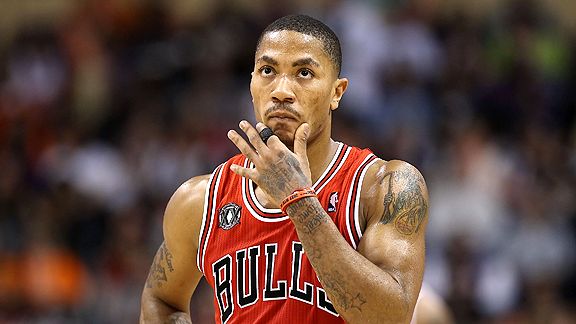 Christian Petersen/Getty ImagesDerrick Rose is putting up All-Star numbers and having his best season by far. But there's a problem.
In the Pro's Questionnaire, our favorite sports figures take our abridged version of the most famous personality test, the Proust Questionnaire. Chicago Bulls point guard Derrick Rose is up. The two-time All-Star and MVP contender reveals his fear of killer clowns, confesses that candy is his downfall and says his idea of misery is a rainy day.
Your chief characteristic:
Derrick Rose: I think humble. I think my whole life, being humble, so humble.
Your main fault:
DR: Eating too much candy.
Your idea of happiness:
DR: Winning a championship.
Your idea of misery:
DR: A rainy day.
If not yourself, who would you want to be?:
DR: Will Smith.
• To read the rest, check it out here on espnW.