Welcome back to another edition of Page 2 Jeopardy!, the quiz that tests your knowledge of sports, pop culture and assorted trivia. Please remember to phrase your responses in the form of a question.
(Correct questions at the end of the quiz.)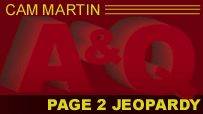 1. Answer: Following a wrenching implosion on the final day of the Masters, this golfer suffered the added indignity of misplacing his golf clubs en route to his next tournament in Malaysia.
2. Answer: Of none, one or 537, the number of books that Kemba Walker, who is graduating from UConn in three years, says he's ever read cover to cover.
3. Answer: In a move that will no doubt make her husband a favorite among Phillies fans, this player's wife said of the team's supporters, "I hate the fans. It is bad enough that they bother us during the season, but they will not leave us alone in December when we go out to eat. We stayed here during the off-season last year, but we will be going to California this year. There must be something particularly bad about Phillies fans because all the players leave in the off-season."
4. Answer: Mixed martial artist Cindy "Battlecat" Dandois, who beat Jorina Baars with a technical knockout on March 19, had to withdraw from her June 18 matchup against Gina Carano because of this extenuating circumstance.
5. Answer: During a recent concert in Austin, Texas, the lead singer of this popular rock band, who is also an Oklahoma fan, elicited a chorus of boos by saying, "We love Austin, except during football season."
Question 1: Who is Rory McIlroy?
Question 2: What is one?
Question 3: Who is Ryan Madson?
Question 4: What is she's three and a half months pregnant?
Question 5: Who are the Kings of Leon?