Hey, Kevin Na, mind if we play through?
Hey, Kevin Na, we're going to watch "Tin Cup." You in?
Hey, Kevin Na, how do you spell "duodecuple bogey?"
Actually, that is how you spell it and it is the correct term when you shoot a 16 on a par-four hole as Na did Thursday in the first round of the Valero Texas Open. To his credit, he managed an 80 on the round and a 77 Friday with no score worse than a double-bogey 6.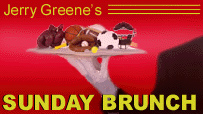 Of course he was free to go home after that.
Just in case Na (or you) should need to know, a sexdecuple bogey just means you were 16 over par although it sounds a lot better than that.
How about 96 over par? That's a sexnonaguple. I'll drink to that.
How about some love for Rory McIlroy? After his fourth-round 80 in the Masters, he flew across the world for the Malaysian Open only to discover that his clubs didn't arrive with him. He did finish third in that tournament, though.