We've had three extra days to file tax returns, so today's the day that the taxman cometh.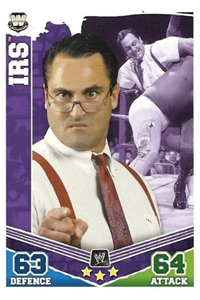 Courtesy of ToppsMike Rotunda (IRS) appeared on about 15 trading cards.
But, if you're a collector of pro wrestling cards, you pretty much can see him everyday -- and his name is Irwin R. Schyster.
The former WWE star (real name Mike Rotunda) appears on just 15 trading cards made through some 20 years of his wrestling and, ironically, they'll cost you about $4 total to own, according to the Beckett.com database.
From roughly 1991 to 1995, Rotunda wrestled as IRS, wearing dress clothes, suspenders and a necktie when delivering moves such as "The Write-off" and "The Tax Penalty." Fittingly, he also teamed with "The Million-Dollar Man" Ted DiBiase, winning tag team gold three times.
Rotunda's first trading card appears in the 1985 Topps WWF set, which was the first fully licensed trading card set made for the wrestling company in the United States. On that card, Rotunda appears with Barry Windham, his brother-in-law and former tag-team partner.
For IRS, there are just three trading cards to be found -- two made by Action Packed in 1994-95 and the 2010 Topps Slam Attax Mayhem gaming card seen here.
What will the newest one cost you?
Thirty cents or less -- no word on taxes, though.