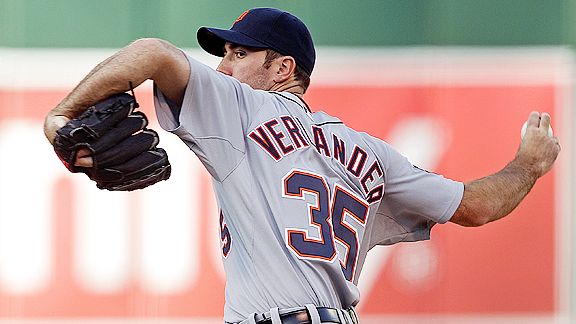 AP Photo/Ben MargotJustin Verlander joins a long line of pro athletes who prove they are just like the rest of us sometimes.
It was awkward; it was unique; it was big league pitching as surrealist performance art. During Detroit's 6-2 loss to Oakland last weekend, Tigers pitcher Justin Verlander lost contact with the rubber and let fly a bizarre, short-armed dirtball that appeared to hit Oakland's David DeJesus in the ankle. The pitch ultimately was ruled a balk, and Oakland manager Bob Geren called it "the strangest thing I've ever seen."
Will all due respect to Geren, Page 2 thinks he needs to get out a little more. And by get out, we mean watch more YouTube. After all, the Internet is a teeming repository -- a veritable Fort Knox -- of sports oddities.
Herein, a few of our Most Awkward favorites:
Free Throw: Kansas guard Brady Morningstar redefining airball by barely -- just barely -- releasing the ball from his hands on a technical foul shot. He later explained that the ball was wet.
Soccer Shot (I): Manchester United's John O'Shea was in perfect position to score a shoot on goal against English Premier League rival West Ham ... that is, until he seemingly suffered a spontaneous case of vestibular disorientation syndrome. Mr. O'Shea? Sir? The goal is that way.
Football Pass: Miami Dolphins kicker Garo Yepremian's botched, bobbling pass attempt in Super Bowl VII is probably the most awkward-looking play in pro football history, but since we couldn't find online video -- nor a clip of New Orleans Saints quarterback Aaron Brooks throwing the ball backwards -- you'll have to settle for some playground awkwardness.
Slam Dunk: We hate to pick on Kansas basketball -- note: not really -- but Julian Wright's attempted breakaway windmill jam is the hoops equivalent of a space rocket that explodes just after clearing the launch tower.
Touchdown Celebration: Baltimore Ravens lineman Joe Reitz was stuffed by the crossbar when attempting to celebrate a teammate's preseason touchdown. The really awkward part? Reitz stands 6-foot-7 and played four years of college basketball. And you felt bad about your non-existent vertical.
Chest Bump (Tie): Los Angeles Lakers sharpshooter Sasha Vujacic seems unable to distinguish between an NBA arena and a mosh pit, while Boston's Nate Robinson proves the old adage that if first you don't succeed, double down on greater failure.
In-Game Interview: Nicole Richie gave 110 percent, but only Joe Namath inspired the title of an inspired sports humor blog.
Low Five (Tie): As children, Andrew Bogut and Gary Neal had imaginary friends.
High Five: Do you have to ask?