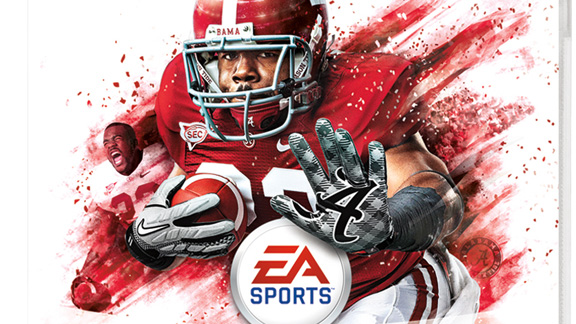 EA SportsMark Ingram is your "NCAA Football 12" cover athlete.
Mark Ingram already has a Heisman and a National Championship. Now he can add "NCAA Football 12" cover athlete to his list of accomplishments (or at least put the box in his trophy case next to all of his other rewards).
Ingram beat out Nick Fairley, Jake Locker and DeMarco Murray in the first-ever "NCAA Football" cover vote, where consumers were able to decide who they wanted to front the box for EA Sports' wildly popular college football game.
More than 140,000 votes were cast, with Ingram winning by a comfortable margin.
"It's a tremendous honor," Ingram said. "It's a game I've been playing since middle school all through high school and even in college. Just the fact that I have a chance to be on the cover of a game is a blessing and something that I'll cherish for the rest of my life."
The cover photo is of Ingram carrying the ball with his gloved left hand extended palm-out flashing a crimson "A."
"I couldn't have drawn it up any better," he said. "I think they did a great job with the cover. It's awesome."
"NCAA Football 12" hits stores July 12 for the PlayStation 3 and Xbox 360.