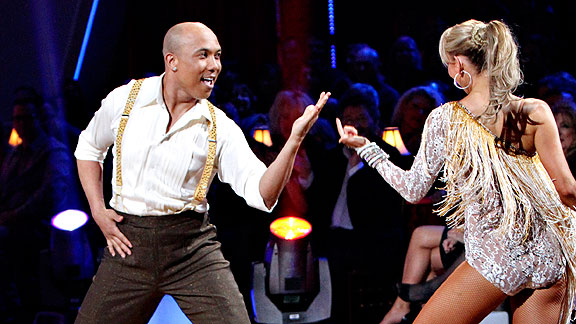 AP Photo/Adam LarkeyHines Ward and Kym Johnson have been front-runners most of the year on "Dancing with the Stars".
On Tuesday night, model Petra Nemcova was the fourth person eliminated from the show.
LOS ANGELES -- There are few scenes stranger than a "Dancing With the Stars" press line -- well, to a sports reporter, anyway.
Pittsburgh Steelers wide receiver Hines Ward, face thick with foundation, is discussing the emergence of his hips and romantic side during Week 5's rumba -- a topic of conversation for nearly every remaining competitor -- and how special it is for him to see the sea of yellow towels in the crowd during each taping -- a point of concern for nearly every remaining competitor.
Next to him, 21-year-old rapper Romeo is wearing a tux and a top hat and bragging about his ability to hang with Ward in weekly one-arm push-up contests. Season 5 winner Helio Castroneves, who came to the show as a way to cheer himself up after a disappointing showing at the Long Beach Grand Prix last weekend, is gushing about Ward's footwork and ability to hold his frame.
"He is doing an incredible job," Castroneves said. "Always smiling, holding his posture. My crew chief told me to tell him he's the man. And you know, he really is. He's surprised me. I didn't know he had that rhythm -- and that hip movement! He will be in the top three."
This is the weird world of "Dancing With the Stars," and something about it is addicting and wonderful. Despite truly intense competition, these contestants cheer each other on during their performances, joke around during commercial breaks and genuinely appear to like and support one another. There seems to be a real camaraderie between the competitors that is lacking even in peewee sports these days, and it likely attributes to the show being such a hit. Well, that and the drama of injuries, stressful practice sessions and surprise wins and losses. Maybe a dance competition isn't so unlike sports, after all.