Bonnie-Jill Laflin, the first and only female NBA scout, this week started appearing in a new PETA advertisement that says "Want My Body? Go Vegetarian!"
Laflin, who had worked for the Los Angeles Lakers and is a former cheerleader, chatted with Page 2 about the campaign for PETA: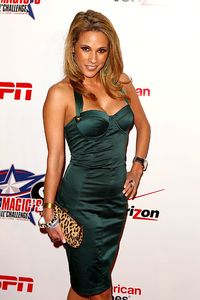 Joe Scarnici/Getty ImagesHere's a photo of Bonnie-Jill Laflin. You'll need to go to the PETA site to see her other photo.
Why did you decide to do this?
I believe in living a vegetarian lifestyle from a health standpoint and I also have deep compassion for animals. I wanted to raise awareness and educate people on the abuse and inhumane treatment that goes on every day in slaughterhouses. People are surprised when they find out that I am a vegetarian. I want people to know that you can still be fit and have curves living a vegetarian lifestyle.
How long have you been a vegetarian?
Since I was little girl. I grew up on a ranch and animals were my pets. … I obviously couldn't imagine eating my pets/friends (chuckle).
What other things do you do to show your love of animals?
Besides picking up any stray animals (including a lost seal pup) and trying to place them in good, loving homes, I recently joined the Animal Welfare Institute's efforts to end horse slaughter for the purpose of human consumption overseas. It will be a comprehensive campaign to educate the American public and raise awareness on Capitol Hill. I never miss an opportunity to educate people on the plight of innocent animals and animal welfare.
You're in great physical shape. How much did you have to work out to get ready?
I've been athletic all my life and was also a professional dancer for the NFL and NBA. Working out is an important part of my daily lifestyle. I do weight training, pilates and the bar method.
Were you nervous about doing this nude photo shoot?
I wasn't nervous at all because I've been modeling for a long time and I knew I was doing it was a cause I am passionate about.
What has been the reaction?
My family and friends are always supportive of me and my causes. They really like the ads. I have many athlete friends, like John Salley, who have embraced a vegetarian lifestyle because it is a healthier lifestyle and compassionate at the same time.