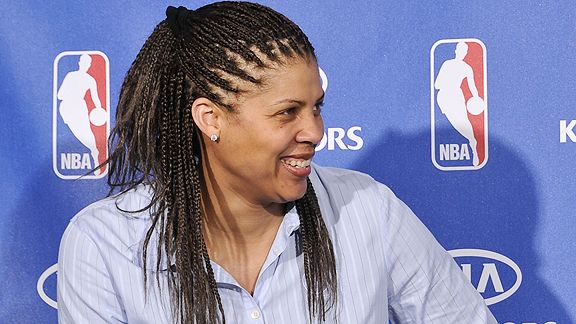 Fernando Medina/NBAE/Getty Images
In the Pro's Questionnaire, our favorite sports figures take an abridged version of the most famous personality test, the Proust Questionnaire. Naismith Memorial Hall of Famer and TNT reporter Cheryl Miller is up. She talks about her love of hot dogs, her relationship with her brother and the muscle in her garage.
Your main fault:
Cheryl Miller: I'm a perfectionist.
Your idea of happiness:
CM: A peaceful mind. Despite the circumstances, good or bad.
What is your idea of misery:
CM: Watching a bad collegiate women's game. From not coming in with a game plan to multiple turnovers. Everything that could possibly set women's basketball back 100 years. Or watching the Atlanta Hawks get beat up by 41. Just watching people not compete period.
If not yourself, who would you want to be:
CM: Oprah Winfrey. Here is a woman who started from the very bottom with tremendous odds against her. She has overcome a lot of personal obstacles and is honest and up front. The things she does on her show change the human stance. Watching the progress from her first show to when she went national is incredible.
Your favorite food/drink:
CM: Pink's Hot Dogs, spicy polish chili dog. Cream soda to wash it all down. That's the nightclub diet after a late night out.
• To read the rest, check it out here on espnW.