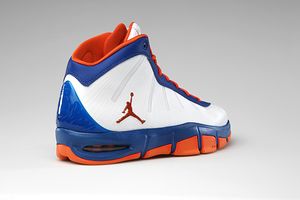 JordanCarmelo Anthony will be wearing these new shoes Friday against the Celtics.
Will Carmelo Anthony have to do it again?
On Wednesday, with Chauncey Billups out due to a left knee injury and Amare Stoudemire sidelined with a bad back, Anthony kept the New York Knicks in contention in their Game 2 96-93 loss in Boston. He had 42 points, set a career-high with 17 rebounds and handed out six assists.
The Knicks trail the best-of-seven series 2-0, with the team set to play host Friday night to its first playoff game since 2004.
It's unclear whether Billups or Stoudemire will play, but Anthony will debut his new Jordan Melo M7 Advance. The shoe will be available to the public in June.