He's not a bunny. He's the Birdman. But in the spirit of an Easter egg hunt, Tony Hawk will be hiding goodies worldwide this holiday weekend for his tuned-in Twitter followers to find.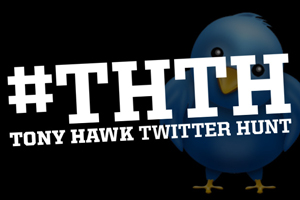 Screen grabTony Hawk fans will look to Twitter on Saturday for his Twitter Hunt clues.
Hawk, who has a whopping 2,379,821 followers on Twitter, began tweeting clues Friday to the locations of 100 boxes of loot located in the United States, United Kingdom, Australia, Canada, South Africa and across Continental Europe. Not all the packages contain the same stuff, but some of the big-ticket items include copies of Activision's Tony Hawk: Shred video game, skateboards, bikes, helmets, clothes and various food and drinks.
This is the third annual Tony Hawk Treasure Hunt on Twitter and the rules are simple: Follow along as Hawk tweets clues. Identify the location, hustle to be the first to find the goods and tweet Hawk a picture with the package in hand.
An early adopter of Twitter, Hawk created an account in 2008.
"It's not that I shied away from other social media," he said. "But it's not as effective or interactive. When I found Twitter, I saw instant, real-time feedback."
Soon he envisioned innovative ways to connect with his legions of fans worldwide. In 2008 while driving to his office, Hawk had an idea: He parked in a cul-de-sac, got out, stuck his skateboard behind a bush and tweeted the location. By the time he arrived at his office, someone had found the setup and sent a return tweet with a photo of the board.
"I saw how much excitement it created, how wide it spread," Hawk said.