April has been quite an eventful month for the vocal legend, Emmylou Harris.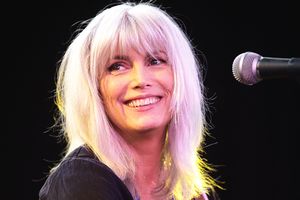 Brendon Thorne/Getty ImagesEmmylou Harris, 64, says touring keeps her young: "I still feel full of energy and I still have a real passion for what I do."
After celebrating her 64th birthday at the beginning of this calendar page, she is now showered with excitement surrounding the release of "Hard Bargain," her 21st studio album, set to drop Tuesday.
On Thursday, the Country Music Hall of Famer, 12-time Grammy winner and Billboard Century Award recipient is poised to kick off a four-month international tour at the El Rey in Los Angeles. But even with all this excitement, the illustrious troubadour maintains that baseball has her perennially enthused this time each year.
We caught up with the lovely luminary by phone to talk about the archives, her new album and the Atlanta Braves.
The Life: We're told you're a pretty serious Atlanta Braves fan. Can you prove it? Do you know Chipper Jones' real name?
Harris: Larry. I thought I was being tested. This is a test?
The Life: You passed. You really are a baseball fan.
Harris: I'm always excited when April rolls around because I have baseball back.
The Life: Do you remember where you were in 1995, the last time the Braves won the World Series?
Harris: That was a really good year for me, too, 1995. That is when my album "Wrecking Ball" came out. It was kind of a pivotal record for me; a rejuvenation of my music, a turning point creatively, I think. I remember that I was playing The Bridge Concert -- Neil Young's benefit concert that he and his wife, Peggy, do every year for The Bridge School -- and so I wasn't able to watch the game and somebody came up to me and told me the Braves won the World Series. And I said, "Yesss." That's what I remember.