This story appears in the May 2 issue of ESPN The Magazine.
ESPN The Magazine asked athletes to share some stories of how they've been approached by outsiders since they come into some serious cash. Simply put, big bank accounts also carry some unforseen baggage.
Heath Bell - San Diego Padres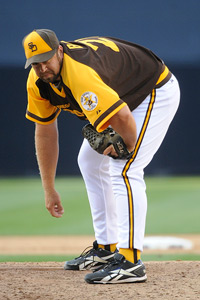 Derrick Tuskan/Icon SMIWhen women approach Heath Bell, he has trouble believing it's because of his chiseled physique.
"I don't have as much trouble with gold-digging women as other guys do, but that's because I'm married and don't have a rock-hard body. It's always funny when women say things like, 'Ooooh, you look good.' I don't. I'm the fat guy."
Allyson Felix - Sprinter
"Recently I was on a radio show with listeners calling in. A person gets on the phone claiming to be a distant cousin through some person I'd never heard of. Eventually, she hints that she needs help with a business idea and anything I could do to help would be appreciated. Afterward I talked to my mom about it, and she said, 'Um, no. This person does not exist.' I have a lot of fake family these days."
Ed Wang - Buffalo Bills
"My favorite was a guy who hit me up recently on Facebook, asking for donations to a charity that didn't sound legit. I hadn't spoken to him since elementary school, and we weren't close enough then to play together at recess. Next thing I know, he's my good friend and wants money. He even played the Christmas card: 'During this holiday season, I hope you think of this organization.' Oh, okay, I haven't spoken to you in 15 years. I'll give you money."
Scott Gomez - Montreal Canadiens
"I've had phone calls straight out of Boiler Room, with some random guy from Long Island calling and saying, 'Scott, don't play games, you have to give me this money now, this is a great opportunity.' And I didn't know who it was or how he got my number. That's why I leave all financial decisions to my money guy or my dad, who is an intimidating presence. My money guy sends me examples of how athletes go broke, and it's effective. Since I was a kid, there have been two things I've been afraid of: going to jail, and working. It's all about freedom. And I need my money for that."