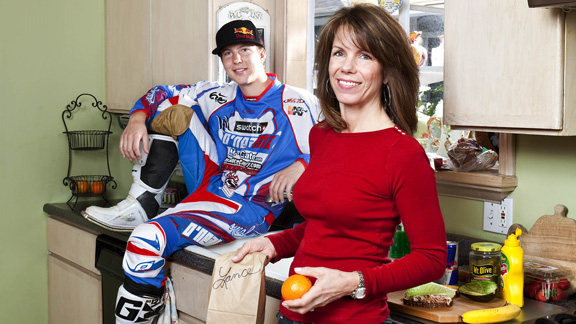 Tom Fowlks/ESPN The MagazineLaura Coury has sprouted more than a few gray hairs while raising her daredevil son Lance, but she wouldn't change it for the world ... or would she?
This story can be found in the May 2 issue of ESPN the Magazine and is currently available on newsstands.
Mothers, by nature, don't like to see their kids hurt. Freestyle motocross riders, by nature, don't go long between emergency room visits. Laura Coury had to reconcile those realities as her son Lance climbed the FMX ranks. But when has being a mom ever been easy?
Here are five things you should know about raising a daredevil.
1. You don't want to be the one to kill the dream.
"We signed him up for soccer and T-ball when he was five, but they didn't take. Then he got a minibike and started racing at six. He immediately excelled. When he was 15 he wanted to do freestyle. I thought of my husband. His parents didn't let him play football, and that stuck with him. So when people ask, 'How can you let Lance do that?' I say, 'How can I not?' I won't stifle him. But do I wish he took up the violin instead? Hell, yes."
2. You have to be tough, too.
"The first time I saw him jump in person, I felt sick. I'd walked up the ramp and freaked out before I hit the top. How could he jump off that? I was scared, but proud. He broke his tibia and fibula his first year of freestyle, and I figured he'd want to stop. But he couldn't wait to get back. Fortunately, I've gotten tougher since then."
3. The best thing you can offer: Full coverage.
"You can't do a sport like freestyle motocross with no health insurance. It's the one thing that would make me stop him. He was covered by our policy until he was 19. Then, because he wasn't a student, he had to get his own. We paid for it until he was 21; he's been on his own since. Despite having to list 'freestyle rider' as his job, premiums are reasonable."