Nearly nine years ago, Cincinnati Bengals safety Roy Williams heard his name called in the NFL draft: eighth overall to the Dallas Cowboys, which eventually landed him more than $9 million in bonuses.
But Williams didn't wait until his first football payday to begin giving back.
The way he tells it, it started with Mom.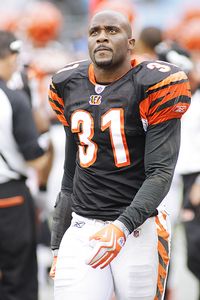 AP Photo/Rick HavnerBengals safety Roy Williams keeps busy with charitable causes.
"When I was like 7, 8 years old, [my mom and I] went to a homeless shelter to feed the homeless," Williams said. "So that's always been instilled in me."
Williams said the philanthropy continued through high school (where he won a community service award and scholarship), and his career at the University of Oklahoma, and now as a pro.
Williams currently works with the organizations Pros for Africa, Pros 4 Vets and FATE (Fighting Addiction Through Education).
And he does work. Reached last Tuesday in his current hometown of Oklahoma City, the California native was between gigs: He had just finished speaking at the state capitol for FATE, and was readying himself for an event for Pros 4 Vets. And in March, Williams and nine other NFL players traveled overseas for a joint mission between Pros for Africa and the Starkey Hearing Foundation.
That wasn't the first trip to the continent by Pros for Africa, which was founded in 2009 by a group with Oklahoma connections: Williams and fellow former Sooners Tommie Harris, Mark Clayton and Adrian Peterson, along with area attorney Reggie Whitten (who spearheaded the project) and others. It also wasn't the first OU-centric joint operation; a similar group founded Pros 4 Vets.
And it won't be the last philanthropic effort for Williams, neither during his career nor after it.
On FATE: "There's a need, one especially in Oklahoma, with addiction and substance abuse. … It's growing like wildfire."
On Pros 4 Vets and Pros for Africa: "There are always going to be our vets coming back with post-traumatic [stress disorder], and there's always going to be issues that they're going to be facing. And there's always going to be a need in Africa."
Hey, sometimes it's hard to break childhood habits.