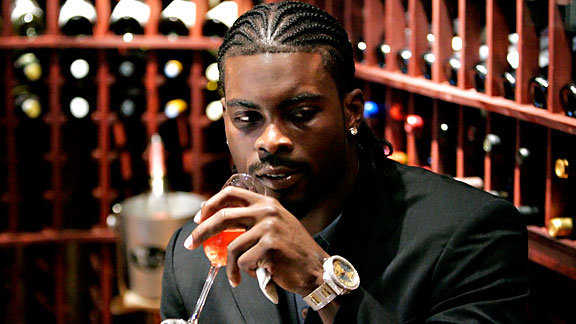 AP Photo/John AmisMichael Vick opened the financially doomed Tasting Room restaurant in suburban Atlanta in 2007.
Want to make a small fortune in the restaurant business?
Then start with a large one.
So goes an old joke among restaurant owners, only it isn't really much of a joke. The latest case in point? Rapper-cum-reality television star Flavor Flav, who shut down his fried chicken restaurant in Clinton, Iowa, just four months after it opened.
According to reports, the eatery shuttered largely due to a dispute between Flav and the restaurant manager. Nevertheless, the rapper says he's considering another Iowa restaurant, as well as one in Las Vegas.
Bad idea.
We've said this before and we'll say it again: the restaurant business has a failure rate of 57 to 61 percent. In other words, it's brutal. Particularly for celebrities. Especially for sports celebrities.
Just ask Chris Webber. Or Bernie Kosar. Or Brett Hull. Or Dwyane Wade, George Brett, Don Mattingly, Jeff Conine, Jim Kelly, Johnny Bench, Larry Bird, Lawrence Taylor, Pete Rose, Ronnie Lott, Wilt Chamberlain and ... frankly, we're tired of typing.
But you get the point.
Having surveyed the wreckage of the athlete-restaurateur landscape -- the finest jocks of multiple generations, destroyed by mediocre steaks -- Page 2 again presents some business pointers for Flavor Flav and other Gordon Ramsey wannabes:
1. Location, location, location
No, not real estate. You. As in: you really have to be there. Consider Chicago. Former Bears quarterback Jim McMahon was seldom seen in his restaurant, which closed before its third anniversary. By contrast, former Cubs announcer Harry Caray was a autograph-signing, picture-posing baseball season regular at his establishment, which continues to thrive long after his death. The upshot? Hungry people are more likely to patronize your namesake eatery if they believe you actually eat there. Go figure.
2. What's in a name? Less than you think
Never mind the food: treating your restaurant like a smile-and-forget, cash-the-check product endorsement -- a la Krusty Flakes -- is a recipe for disaster. Then-Chiefs defensive end Jared Allen sold his name to a Kansas City eatery, was traded to Minnesota and saw the place close mere months after it opened. A Chicago eatery bearing Michael Jordan's name had initial success as a tourist destination, but later shuttered after Jordan and the owners staged a legal fight over the naming rights, all while Sammy Sosa wisely backed out of allowing his moniker to be used in place of Jordan's. (Note: when Sosa thinks something is a bad idea, it's probably ... even worse).