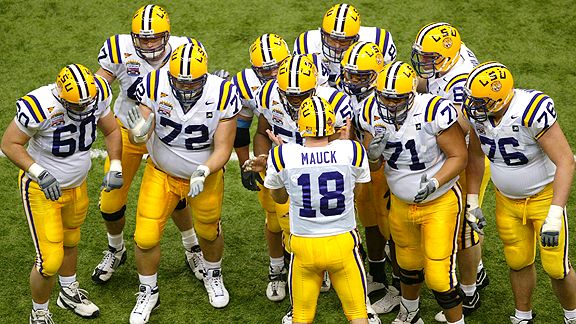 Jamie Squire/Getty ImagesPage 2 hasn't forgotten that Matt Mauck quarterbacked LSU to the BCS championship on Jan. 4, 2004.
NFL fans are awash in mock drafts as we approach the first round of the 2011 NFL draft on Thursday night.
But the spectacle wouldn't truly be complete without Page 2 chiming in with its mock draft.
1. Chance Mock, former Texas quarterback: He was the guy the Longhorns had under center after Major Applewhite and Chris Simms but before Vince Young and Colt McCoy. Former Parade All-American went on to play for the Austin Wranglers of the Arena League.
2. Matt Mauck, former LSU quarterback: He piloted the Bayou Bengals to the 2003 BCS national championship under coach Nick Saban. He's now a practicing dentist in the Denver area.
3. Chad Mock, former Hawaii wide receiver: He played two seasons in the islands with Colt Brennan and later in the CFL with the British Columbia Lions.
4. Carl Mauck, veteran NFL center: He played 13 NFL seasons, primarily with the Oilers and Chargers. He later became a longtime NFL assistant coach who bore a striking resemblance to famed motivational speaker Matt Foley.
5. Mike Mock, former Jets linebacker: He was drafted in the eighth round of the 1978 NFL draft out of Texas Tech and played one season with the Jets.
6. Charlie Mockmore, offensive guard of yesteryear: He played at the University of Iowa and for the 1920 Rock Island Independents in the APFA, which was the forerunner of the NFL.
Feel free to mock our choices or omissions in the comments section.