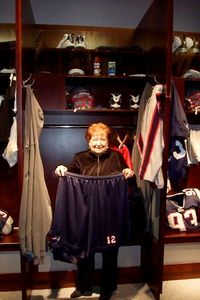 Courtesy of Loraine PytkaLoraine Pytka is meeting her idol, Tom Brady, Friday morning.
Under Armour made the dreams of 12 fans come true by declaring them the winners of the Tom Brady Draft Chat Contest. Hundreds of fans submitted their best fan photos to the TB Draft Chat app on Facebook, hoping to win a chance to attend the interview in New York. The 12 best photos were named winners, and receive free admission for themselves and a guest to the chat Friday morning.
Loraine Pytka of Rhode Island is one of the 12 winners. She had some thoughts about Brady before meeting him.
"Tom, I'm probably your biggest fan at 77 years old and I live everyday as a Patriot, and Brady you're like my own son," she said. "I named my puppy Brady in tribute to you. And, if I could have another son, I would name him Brady."
Four-time Pro Bowl QB and NFL analyst Boomer Esiason will moderate the chat, which will be broadcast live at 10:45 a.m. on Under Armour's Facebook page and on Ustream.tv.