Welcome back to another edition of Page 2 Jeopardy!, the quiz that tests your knowledge of sports, pop culture and assorted trivia. Please remember to phrase your responses in the form of a question.
(Correct questions at the end of the quiz.)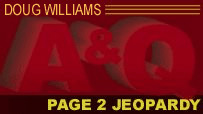 1. Answer: From Broncos backup to breakout star, this fan fave of a long-suffering NFL franchise was voted onto the latest Madden video game cover.
2. Answer: This NFL quarterback intercepted reality TV show beauty Kristin Cavallari, announcing his engagement this week and proving to oft-disgruntled fans that yes, he can complete a pass.
3. Answer: Demonstrating that Americans aren't the only ones who can be geography challenged, the national team of this nation flew to Poland, instead of actual host Slovakia, for the World Hockey Championships.
4. Answer: One teammate says this pitcher -- who leads the majors in wins, strikeouts and ERA and is the first ever to reach six wins by April 25 -- is performing "like a video game."
5. Answer: This former Olympic star had lost almost 200 pounds but won several enemies before suddenly quitting "The Biggest Loser."
Question 1: Who is Peyton Hillis?
Question 2: Who is Jay Cutler?
Question 3: What is France?
Question 4: Who is Jered Weaver?
Question 5: Who is Rulon Gardner?