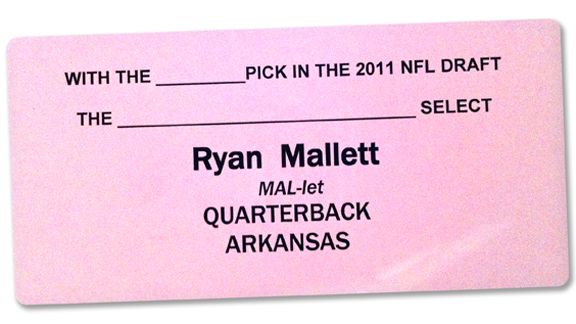 ESPN.comRyan Mallett's card, before the New England Patriots drafted him in the third round (74th overall).
NEW YORK -- NFL draft fans know the drill: the draft card is handed in, then NFL commissioner Roger Goodell takes it to the podium and reads the pick.
But what's on the card? And are its days numbered?
Cards used to be more generic, with the player's name written on it. But handwriting differences (and pronunciation issues) led to a better system.
Now, cards are made for each player, then the pick and round are filled in.
If the player is in attendance, Goodell will sign the card and give it to him. In Friday's second round, Broncos Hall of Famer Shannon Sharpe, who announced the team had selected UCLA safety Rahim Moore, signed the card on stage along with Goodell, and presented it to the player.
As teams and the league embrace technology, like the Bills using Skype to introduce draft pick Marcell Dareus to fans backstage right after the pick, could the cards be an endangered species?
NFL spokesman Brian McCarthy said Goodell is a "gadget guy" and always pushing for tech advancements, such as using an iPad instead of the cards.
"I said maybe we should think about that. But then you could change your pick on the way up to the podium," Goodell said, laughing. "I'm not sure we want that."