MIAMI -- Was it World Wrestling Entertainment's Monday Night Raw, or a University of Miami football pep rally?
It was hard to tell Monday, at least looking at the AmericanAirlines Arena crowd. Looking in the wrestling ring, too. That's because Dwayne "The Rock" Johnson was back for what he called "the biggest birthday celebration in the history of TV," and the University of Miami defensive end-turned wrestling sensation-turned movie star (whose recent film "Fast Five" just banked an April record $83 million on its opening weekend) made no mistake about it: At heart, he's a Miami guy.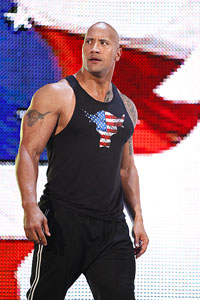 Courtesy of WWEDwayne "The Rock" Johnson celebrated his birthday in style by returning to his hometown of Miami Monday.
And a Miami sports guy.
Dwyane Wade and LeBron James -- a day after starring on the AmericanAirlines Arena court -- gave a taped birthday greeting on the Triple-A jumbotron (with LeBron doing his best Dwayne Johnson when asking if we could smell what The Rock was cooking and Wade saying, "It's good to see you back out there"). Dan Marino offered best wishes, too. Hip-hop artist/Miami native Pitbull performed, backed by the Heat dancers. When commentator/instigator Michael Cole revealed a Kevin Garnett Celtics jersey beneath his suit, the People's Champion quickly quieted him with his signature "rock bottom" and "people's elbow" moves.
And of course there was the "U," as Johnson frequently flashed Miami's famous hand signal (reminding some confused wrestling fans of Diamond Dallas Page's gesture).
Johnson made it about more than Miami, though. On the heels of the Osama bin Laden news, he led the large crowd in the Pledge of Allegiance. The evening also featured big matches, including John Cena vs. The Miz for the WWE Championship (Cena won, retaining the belt he claimed a night earlier). Mya later sang "Happy Birthday to You" (imagine the royalty fees) and WWE chairman Vince McMahon offered a personal thank-you.
But let's not forget one more Miami connection: WrestleMania XXVIII, set for April 1, 2012, at nearby Sun Life Stadium. In addition to celebrating, Johnson spent the night promoting his coming battle with Cena.
"Just bring it," Johnson told him.
Sounds like something Johnson has been saying since he was a national champion at the U.