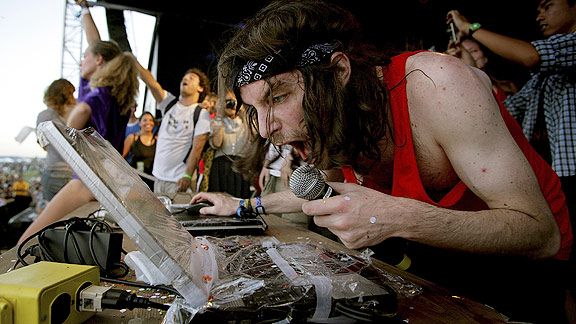 Courtesy of Dove ShoreGirl Talk's live shows are intense, so he takes protective measures with his laptop.
The artist known as Girl Talk is a frenetic performer, a mashup musician whose instrument is a Panasonic Toughbook filled with samples and loops, wrapped in Saran Wrap to fend off his sweat. His live shows are known for their energy, where the entire stage becomes packed with fans (by his preference) and where he almost assuredly will have taken off his shirt (and often much more).
His most recent album "All Day," which he released as a free download, consists of 372 samples seamlessly blended together over 71 minutes.
By day, Girl Talk is Gregg Gillis, a huge Pittsburgh sports and NBA fan and former biomedical engineer who got a degree with an emphasis on tissue engineering, then had to quit his day job when his music career took off.
Gillis will be talking Pittsburgh sports and whatever else you throw at him in a chat on Thursday on ESPN.com. Submit questions for him and find a link to download the album over at SportsNation.
Gillis talked with Page 2 by phone from Pittsburgh, where he just returned from a series of tour dates, discussing his surprising disinterest in technology, if he'd ever want to play at a Steelers game, and what theme songs he'd select for a few NBA playoff teams.
On his tech setup and MP3 collection:
I'm not like anti-technology. I'm not a Luddite or anything. I'm just not huge on those sorts of things. I've been using an iPod the past month or so. I'm new to it. My parents actually gave it to me a few years ago and I've just started using it. Even the software I use, basically I'm using the same software I've been using for 10 years.
For a guy who has a background in engineering and who plays a computer for a living, I probably have the least amount of interest in tech-oriented things that you can have.