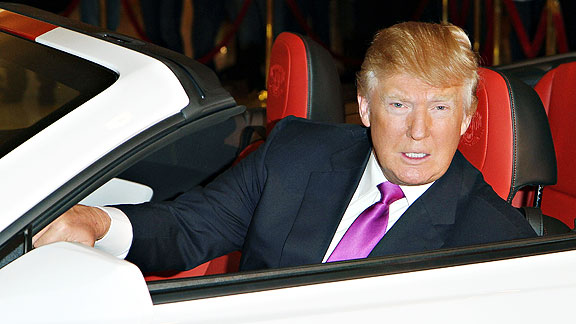 Taylor Hill/Getty ImagesYeah, that's right, Trump. We want to see that driver's license before you get behind the wheel.
Dear Donald,
Is okay to call you that? Donald? Just Donald? And not the Donald? 'Cause there are other Donalds out there: Rumsfeld, Ronald Mc, Duck.
Also, Ohio State kind of has the pretentious "the" thing wrapped up.
Anyway, we hear that you've been tabbed to drive the pace car at the upcoming Indianapolis 500. We also hear that there's a Facebook page with over 5,300 supporters calling on the race to, um, downsize your role as said driver. Which is bunk. This is America. Land of the free, yadda, yadda, yadda. The Indianapolis Motor Speedway has every right to invite you. You have every right to participate. In fact, we're in your corner. Provided you can clear up one tiny disquieting detail.
Show us your driver's license.
Look, it's nothing personal. We're not suggesting anything untoward. We're just saying that it's pretty unusual that a guy who typically rolls in a chauffeured limo when he's not using a private chopper to get around Manhattan suddenly and mysteriously finds himself behind the wheel of the most important car in the country.
Doesn't that seem a little strange?
Do we know that you're legally qualified to operate an automobile?