While many of us will recognize Thursday as Cinco de Mayo, the holiday of Mexican heritage and the 1862 Battle of Puebla, baseball fans in Lake Elsinore, Calif., will be celebrating something a bit different.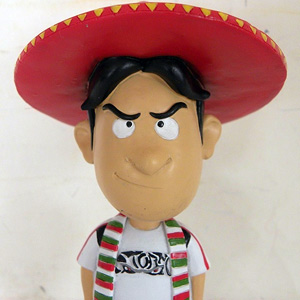 Lake Elsinore Storm Celebrate Cinco de Mayo by going to a minor-league baseball game in Lake Elsinore, Calif.
At 7:05 tonight in Diamond Stadium it will be Sheen-co de Mayo in honor of everybody's favorite winner, Charlie Sheen.
The hometown Storm will take on the Bakersfield Blaze and the Single-A affiliate of the San Diego Padres is planning a Sheen-themed approach to the otherwise-serious holiday -- a promotion that has drawn the ire of some community groups in the area.
The team invited Sheen (and his goddesses, of course) to attend the event, which will include a bobblehead giveaway -- a miniature replica of the TV and movie star wearing an oversized sombrero and a team T-shirt -- a food-eating contest, "Wild Thing" glasses for fans and even a retirement ceremony for the No. 99, which Sheen made famous as Ricky "Wild Thing" Vaughn.
"We are undecided on how many [bobbleheads] will be given out," Steve Smaldone, the Storm's Director of Media Relations recently told Beckett Baseball magazine. "You can only get them on that night for the promotion as of now."
That's not all, the concessions stand will be selling "Tigerblood cocktails" and will have a two-for-one special on … wait for it … Ho-Hos.