Welcome back to another edition of Page 2 Jeopardy!, the quiz that tests your knowledge of sports, pop culture and assorted trivia. Please remember to phrase your responses in the form of a question.
(Correct questions at the end of the quiz.)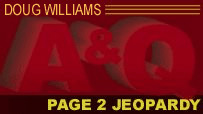 1. Answer: Before the Bulls' Derrick Rose was elected the NBA's youngest MVP at age 22, this Hall of Famer -- who was both MVP and Rookie of the Year at age 23 -- was the youngest to win the award.
2. Answer: According to the Los Angeles Times, this tennis legend said he was practicing with a UCLA student who told him, "I never saw you play except on YouTube."
3. Answer: This defensive end, who will become a free agent once the NFL lockout ends, says he will pursue a boxing career before he'd sign the one-year, $2.8 million tender offered by his current team, the Minnesota Vikings.
4. Answer: This NBA star said of Kobe Bryant, "I've repeatedly said he's the best player in the world. There's nothing he can't do. I would say there's no shot he can't make."
5. Answer: This woman is hoping to become not only the first female to train a winner in Saturday's Kentucky Derby (with Mucho Macho Man), but the first trainer to win following a heart transplant.
Question 1: Who is Wes Unseld?
Question 2: Who is Pete Sampras?
Question 3: Who is Ray Edwards?
Question 4: Who is Dirk Nowitzki?
Question 5: Who is Kathy Ritvo?