The first leg of horse racing's Triple Crown is known as the most exciting two minutes in sports. We can't promise that description applies to the following list, but we'll wager that the All-Kentucky Derby team is worth your time.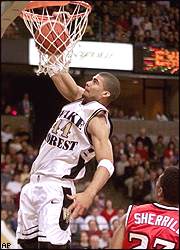 APWake Forest's Josh Shoemaker was a little taller than Bill.
Owen Porter Churchill: The native Californian was a three-time U.S. Olympian in sailing -- he won a gold medal on the Angelita (8-meter class) in 1932. While that sport is essentially a relic, Churchill does have a legacy. He invented the flipper, aka the swim fin. In light of his excellence in sailing -- he won the gold medal in 1932 -- he probably didn't need to use his patented device all that often to swim to safety.
Scott Downs: It's not just that his last name goes with Churchill. The veteran pitcher, who led the American League with 81 appearances in 2007, went to high school nine miles from the track. Now he's a Dodger, which means he works less than 16 miles from another race track, Santa Anita. Of course, being a Dodger also means he might not get paid in a couple of weeks.
Aristides Almenar: The Venezuelan pitcher and the inaugural Derby winner (1875) have a first name in common. Both ran around in circles in pursuit of greatness. While Derby champ Aristides stuck around Kentucky to earn his fame, Almenar plied his trade in Brooklyn, Hagerstown, Md., Port St. Lucie, Fla., Kingsport, Tenn., and Rotterdam. Yes, that one. He was a member of the Sparta-Feyenoord team in the Dutch Major League in 2008.
Paul Jones: This is an exceeding common name. For a human. In fact, it may be the only name shared by any human and any Derby winner. Paul Jones, the horse, won the race in 1920. (We doubt there have been too many people named Behave Yourself, the 1921 champion.) There was at least one Paul Jones -- and as many as three --in minor league baseball in every season from 1942-59. It is unlikely that any of them could have kept up with the racer.
Josh Shoemaker: Jockey Bill Shoemaker rode Thoroughbreds, four of which won the Derby. Basketball player Josh Shoemaker followed one, succeeding Tim Duncan in the post for Wake Forest.