Don't know about you, but I'm treating the week-old NFL Draft like beef jerky, meaning that I just keep chewing and chewing in an attempt to make it last. After all, living in Orlando, I no longer have any rooting interest in the NBA while we don't really care about baseball and have never heard of hockey.
So how about that NFL draft? Here's a few more NFL-related thoughts to ponder:
• If we call the last guy picked in the NFL Draft "Mr. Irrelevant," what do we call the last guy picked (on Twitter) in the UFL Draft? Actually, that guy has his own song from the musical "Chicago." It's called "Mr. Cellophane."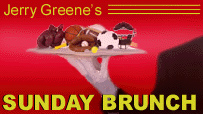 • Miami Dolphins GM Jeff Ireland says his team is "not desperate" to get a quarterback after not drafting one. Right, just like the passengers on the Titantic were not desperate for a lifeboat.
• Meanwhile, the Tennessee Titans drafted a janitor in the seventh round. Sounds about right.
• Breaking News: Nobody stabbed Brandon Marshall this past week.
And as we reluctantly segue from the NFL to other things, we've got to admit that injured NBA guys in suits look a lot better than out-of-work NFL guys in suits. The only time we see a baseball guy in a suit is at his trial. Hockey players don't have suits.
A few more bits of tid before we chow down on the main courses in this Mothers' Day Brunch:
• My apologies because I lost track. Has Shaq been sidelined because of a calf injury or because he ate a bad calf?
• The amazing thing about Justin Verlander's no-hitter is that it wasn't against the White Sox.