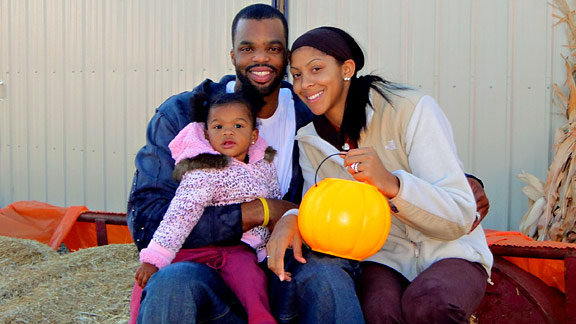 Courtesy of Candace ParkerCandace Parker juggles a basketball career, marriage to Shelden Williams and being a mom to Lailaa.
Most people know Candace Parker can dunk. She was the first female to do it in an NCAA tournament game, and had been dunking since high school.
Most people know Parker, who stands 6-foot-4, can play. In 2008, she became the first player in the WNBA's 14-year history to win rookie of the year and most valuable player awards in the same season.
But most people don't know that Parker is redefining how to merge the lives of a mother and superstar pro athlete.
Parker, then 22, shocked players and league officials when she announced her pregnancy with husband and NBA player, Shelden Williams, in January 2009.
Some athletes wait until their careers are established, or until they retire, to have kids. Not Parker. She became a mother just a year after her sparkling pro rookie season, as the biggest name in women's basketball and with the WNBA promoting her as the league's star.
Parker, now 25, is not only the famous face of a league, but the face daughter Lailaa most likes to see in the morning. Lailaa turns 2 on May 13.
"I've never spent a night away from my baby," Parker said.