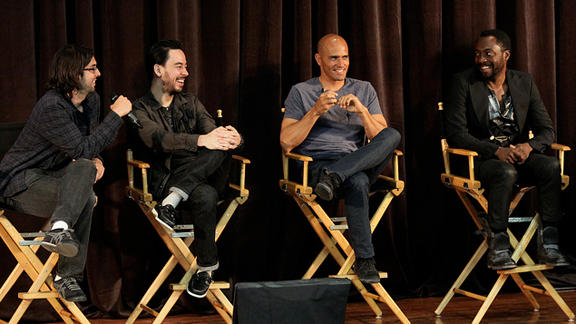 Emily Goodman/Saeger Media GroupRob Bourdon, Mike Shinoda, Kelly Slater, and will.i.am on the PTTOW panel last week.
Before the start of the Nike 6.0 Lowers Pro on Tuesday, current World No.1 Kelly Slater withdrew from the event. The waves in Australia were so good that he didn't want to leave, so he stayed an extra day and didn't arrive in the U.S. until Wednesday. "I also cut my leg a couple days ago and didn't realize how bad it was at first, so I decided to withdraw and give my spot to someone else," Slater says.
So, what did Slater do with his extra time last week? Meet the Dalai Lama, of course.
Wednesday afternoon, His Holiness the 14th Dalai Lama visited the UC Irvine campus to speak to a small group of action sports and corporate executives and young people as part of the third-annual PTTOW (Plan To Take On the World) Youth Media and Innovation Summit. He spoke about the power of young people to effect change in the world and their responsibility to begin thinking globally, rather than nationally. "In order to create a new shape of this planet, that is entirely on your shoulders," he said to the crowd, after asking anyone in the room who was 20 years old or younger to raise their hands. "Young people, you have a responsibility to create a better, more compassionate society. You must think in terms of global responsibility."