During "Upfront" next week, television networks unveil their new fall show schedules to advertisers and media.
ESPN will have its share of announcements Tuesday morning, but it's the CBS slate that ESPN Radio and "SportsNation" host Colin Cowherd and "NFL Live" analyst Mark Schlereth are keeping an eye on with great interest.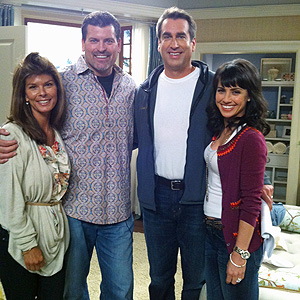 Courtesy of Mark SchlerethLisa and Mark Schlereth with the stars of their sitcom, Rob Riggle and Constance Zimmer.
Both have sitcom projects in the works based on their lives. Scripts have been written and rewritten, and their pilot episodes have been shot.
Now they're waiting to hear whether their respective shows will get picked up by the network.
Schlereth's show is called "Home Game." Cowherd's show is still untitled.
Front Row sat down with Cowherd and Schlereth to learn more:
FR: How did this all come about?
Cowherd: About two years ago, Eric Tannenbaum, a producer from "Two and A Half Men," called my agent and asked to meet with me. He said he listened to my dialogue on a daily basis and thought there might be a sitcom in there about a workaholic kind of guy that has high-energy women in his life. Slowly, over the course of a few years we agreed that maybe there was something and we decided to give it a run.
Schlereth: Last summer I was at the ESPYs with my wife and daughters. I bumped into a couple of buddies, whom I met there two years earlier -- Peter Sussman and Steve Levinson, who's a producer and manager for Mark Wahlberg. Steve and Mark are partners in Leverage Productions and they produce "Entourage." I was talking to them when this stream of NFL players walked by. The players said hi to me and before I could even respond to them they started chatting up my daughters. Peter and Steve gave me all kinds of grief and told me, "this would make a great sitcom." We got a good chuckle about that and Peter said he would call me the following week to set up a meeting with some writers. I didn't expect anything, but he called and we started hashing out the premise of the show. Before we knew it, the pilot was born.
• Click here to read the rest of the story at ESPN Front Row, the corporate blog about ESPN and its people.