Before I took my current job at ESPNNewYork.com, I spent six years in the New York Daily News sports department.
Working there, I had the pleasure and the privilege to know Bill Gallo, the legendary cartoonist, columnist and editor who died late Tuesday night at 88.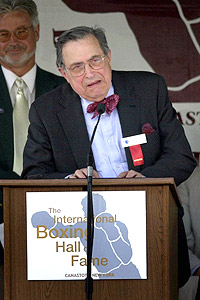 AP Photo/Kevin RivoliNew York Daily News cartoonist and columnist Bill Gallo died Tuesday at 88.
Sitting steps away from the office of a legend, I felt it was my duty as a budding journalist to pop in on Gallo from time to time, seek his advice when I needed it, and hear his stories from bygone days.
On one of those occasions, I brought a tape recorder with me.
I let it roll as Gallo told me the story of how he broke into the business, stayed true to himself as an artist, found the inspiration for General Von Steingrabber -- his famous caricature of late Yankees owner George Steinbrenner -- and tackled tragic moments such as the untimely death of Yankees catcher Thurman Munson.
Gallo's life can't be wrapped up into three three-minute audio clips, but I went home one night and cobbled them together anyway, taking out the pops and hisses as Gallo described unforgettable moments like his first confrontation with Steinbrenner after his cartoon parody of The Boss made its debut in the Daily News.
Steinbrenner, in his inimitable, intimidating style, walked right past Gallo and up to Gallo's wife Dolores, held out his hand, and said, "How do you do, Mrs. Gallo? I'm General Von Steingrabber."
• Click here to read the rest of the story on ESPNNewYork.com and listen to Bill Gallo's stories.