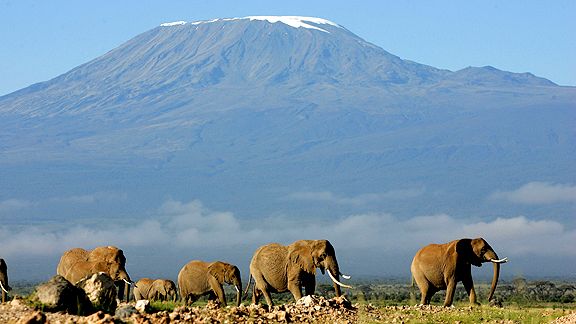 AP Photo/Karel Prinsloo
Editor's note: ESPN football analyst Tedy Bruschi will chronicle his climb up the 19,000-foot Mount Kilimanjaro (May 13-19) for ESPNBoston.com. Bruschi, former Titans coach Jeff Fisher, former Eagles tight end Chad Lewis and four injured military service members are climbing the mountain to raise awareness for the Wounded Warrior Project. You can follow the progress of the group on the Wounded Warrior Project site.
TANZANIA, Africa -- Friday marks the start of our climb of Mount Kilimanjaro, although our journey to this point started Tuesday in New York.
We had an early wake-up call that day for an interview on CNN. We met in the lobby at 6 a.m. for the 6:50 interview at Time-Warner studios. New York traffic was heavy at that time, so we got into the building at 6:40. They hustled us through makeup to get us on the set.
It was me, former Eagles tight end Chad Lewis and Nancy Schiliro, one of the four Wounded Warriors making the climb. Nancy, who is visually impaired, was the star of the segment. She immediately made us all feel at ease when she said, "It's all fun and games until you lose an eye." It took her a while, but she said she's come to grips with what she had to go through. She's a very strong woman and she captained us both during the interview, educating everyone on the Wounded Warrior project and believeinheroes.org and how they're helping veterans re-integrate into society.
After that, we went to Engine 10, Ladder 10 and got to spend time with some firefighters, while looking at the Memorial outside of their firehouse. As I was being given a tour, there was a call, and one of them said, "Do you want to ride with us?" So I rode in Engine 10 a couple of blocks, with the sirens going, to investigate a smoking manhole cover. They assured me there wouldn't be anything serious, and they are usually false alarms because it's steam coming out of the manhole.