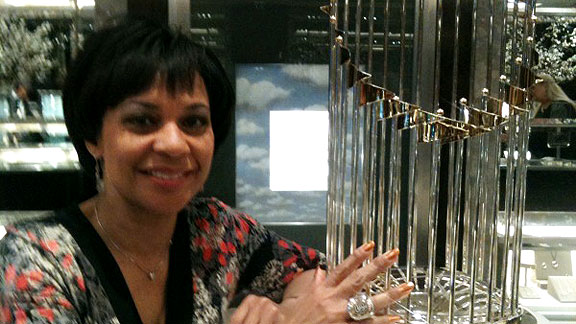 Courtesy of Renel Brooks-MoonRenel Brooks-Moon has been in the booth for two World Series, in 2002 and this past fall.
In the third inning of what had already been a pretty good night, San Francisco Giants owner Bill Neukom and team president Larry Baer showed up in the public address booth at AT&T Park.
Renel Brooks-Moon, the team's PA voice since 2000, when the Giants began playing in the new ballpark, had seen Neukom and Baer earlier that evening. She had served as emcee for the ceremony in which the San Francisco players and coaches received their World Series rings.
She was the one who announced the names of Bay Area sports legends who strolled through the center-field fence and walked across the outfield grass to participate in the ceremony. She got a little giddy when she said the name Reggie Jackson, there to represent the Oakland A's.
"The old Oakland girl in me thought that was pretty cool," Brooks-Moon said.
So, her night had already been made when Neukom and Baer arrived in her box -- which overlooks home plate, the Bay Bridge and the East Bay hills -- bearing a gift.
"They handed me a blue Tiffany box," Brooks-Moon said. "And then I had to hold it together, but I felt like openly weeping, but Lance Berkman was in the on-deck circle."
Brooks-Moon, who moonlights as one of the Bay Area's most popular morning radio personalities, holds the distinction of being Major League Baseball's only female public address announcer.