When you have a child with a birth defect, you either go into your shell and avoid the world, or you can do what actor/former tennis star Boris Kodjoe and his wife Nicole Ari Parker did.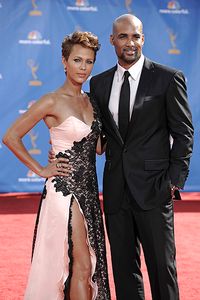 AP Photo/Chris PizzelloBoris Kodjoe and his wife, Nicole, are hosting a poker/boxing event to benefit spina bifida.
"We speak out for those who don't have a voice," said Kodjoe, who was a four-year letterman at Virginia Commonwealth University before becoming a model and then actor. "There are a lot of people in the same boat with us. We just have the platform and the opportunity to make it known publicly. We want to let people know there is a lot of help and support."
Kodjoe married his "Soul Food: The Series" co-star Parker in 2005, and she gave birth to their first child, Sophie Tei-Naaki Lee Kodjoe, on March 5, 2005. Sophie has spina bifida, a birth defect that involves the incomplete development of the spinal cord or its coverings. The term spina bifida comes from Latin and means "split" or "open" spine, and the defect affects about one child out of 1,000 births worldwide.
"When you first face the news of the birth defect, it rips your heart out. It's like getting hit over the head with a sledgehammer," Kodjoe said. "Then you have to start coping with your new norm, your new reality."
On Thursday in New York City, baseball legends Darryl Strawberry, Doc Gooden and many other athletes will take part in the sixth annual BOX NYC, a charity event featuring six pro boxing matches along with a Texas Hold 'em poker tournament. A portion of the proceeds will benefit Sophie's Voice Foundation, supporting children and adults with spina bifida.
"The outpouring of support has been amazing. It makes you stronger, and my wife has been an absolute superhero through all of this," Kodjoe said. "And, on Thursday, I'll be watching everyone go at it playing poker. I'm just glad people will be coming together to support a great cause."