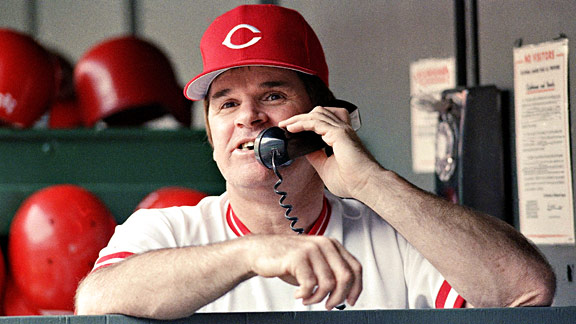 AP Photo/Al BehrmanWould you have wanted to listen in when Pete Rose placed his first bet on baseball?
We should send an interoffice memo to ESPN Programming because we know what would be a great new series: "Sports Snoops."
Seriously, let's run this up the flag pole and see whether it waves; let's drop it in the well and see whether it splashes; let's pull it from the hat and see whether it hops. The pitch is a show that recreates moments in sports that were not actually recorded because either they happened too long ago or they were intentionally shrouded in secrecy. In other words, a show about being nosy.
That appeals to you, based on your response to our call for Top 10 Greatest Sports Moments to Hear. Some of you listed events that were great and were recorded, albeit often forgotten, but most of you submitted moments in sports history that were not recorded. And most of those moments were not of the shining variety.
Corruption sells.
So here is the list -- and, ESPN Programming, this could be the episode guide for Season 1 of "Sports Snoops." (Yes, I would like to be mentioned in the credits.)
Top 10 Greatest Sports Moments to Hear
10. "The famous 'They're Going Home' broadcast of Jan. 11, 1976, when the Soviet Red Army hockey team left the ice against the Philadelphia Flyers," submitted by Ian M. of Sault Ste. Marie, Ontario, Canada. (Not sure how famous this is now but we want to encourage our Canadian friends.)
9. "Tim Tebow's birth so we all could have our lives enriched by hearing his first cry," submitted by Ben M. of Peoria, Ill.
8. "Listening in when Pete Rose made his first bet on the Reds," submitted by Charles T. of Cincinnati.