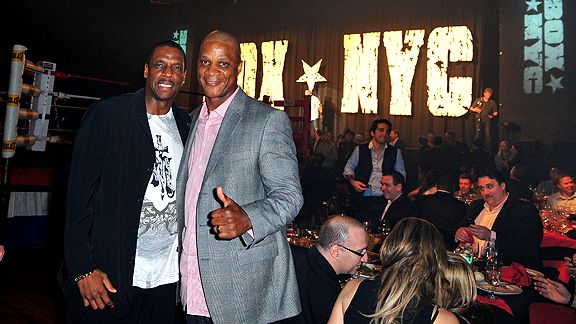 James DevaneyDoc Gooden and Darryl Strawberry attended a boxing event Thursday to benefit spina bifida.
NEW YORK -- In most cases, when New York baseball legends Dwight "Doc" Gooden or Darryl Strawberry walk into a ballroom in the city, the sports fans would go crazy.
But neither guy was having any of that Thursday night at the sixth annual Box NYC, a charity event produced by WCMG Events to help benefit Sophie's Voice Foundation, supporting children and adults who have spina bifida.
"We're not here for ourselves. We're here to show our support for a worthy cause," said Strawberry, who won four World Series titles (one with the Mets and three with the Yankees). "I think it's important to put your celebrity to good use. And I do love to come back to New York and see my fans."
Strawberry lives in St. Louis and is a baseball television announcer, author and has opened several restaurants in the city. He quietly strolled in among the 1,500 audience members to watch the boxing and poker, with proceeds benefiting the foundation.
For Gooden, it was a quick car ride from his home in New Jersey but he's pretty much put his own sports pursuits in his rearview mirror.
"I spend all my time now watching my kids living their dreams," said Gooden, who won three World Series titles (one with the Mets and two with the Yankees). "Looking back at all I've been through, I'm really just lucky to be here. And I want to show my support."
Both baseball legends were guests of actor Boris Kodjoe and wife Nicole Ari Parker, who organized the event to help support their 5-year-old daughter, Sophie Tei-Naaki Lee Kodjoe, who was born with spina bifida. The birth defect term comes from Latin and means "split" or "open" spine and involves the incomplete development of the spinal cord or its coverings.
"I'm so glad people are here for this important cause," Parker said. "We are dealing with a new norm with our daughter, and we want to help people understand this birth defect and how it can be prevented. So tonight goes a long way toward that."