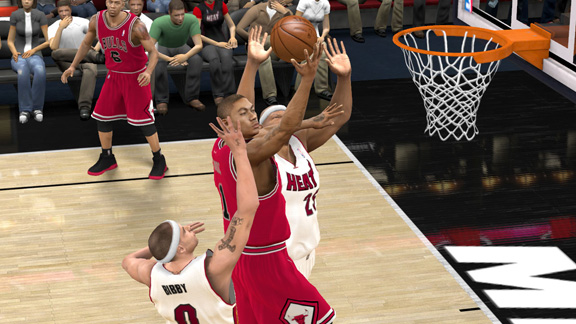 2K SportsAccording to "NBA 2K11," Derrick Rose and the Bulls will win the NBA title.
Tapping into the simulation engine of "NBA 2K11," 2K Sports predicts a wild NBA Finals between the Bulls and Mavericks, with Dallas jumping out to a three games to one series lead only to choke away the title to Derrick Rose and the Bulls in seven.
With Chicago on the brink of elimination, Rose averaged 33 points and nearly 10 assists in games 5, 6, and 7 to capture MVP honors while earning the Bulls their first championship since the days of Michael Jordan (who ironically enough, is on the cover of "NBA 2K11").
As for the down and dirty stats of how the Bulls did it, here is the information 2K Sports provided from the simulation:
Eastern Conference:
The Bulls out-rebounded Miami in five of the series' seven games, and the duo of Joakim Noah and Carlos Boozer combined for more than 17 rebounds per game.
Rose had a stellar series; averaging 32.4 points a game to go with 7.6 assists.
LeBron James (27 points, 8.6 rebounds) and Dwyane Wade (25, 5.6) played well in defeat.

Western Conference:
Kevin Durant averaged 33 points and nearly 11 rebounds a game, but Dirk Nowitzki (30, 9) matched him every step of the way.
The aging Jason Kidd showed he wasn't ready to retire, averaging 7 points, 5 rebounds, 8 assists, and 3 steals during the seven game series.

NBA Finals:
Rose had ice in his veins under pressure. In the deciding Game 7, Rose sealed the title with a 42 point performance.
The Bulls' role players came up huge when it mattered. Luol Deng's 33 points in Game 5 helped get the series back to Chicago, while Carlos Boozer's 23 point and 17 rebound performance forced a Game 7. Boozer and Joakim Noah combined for 27 points and 17 rebounds in the clincher.
Despite a stellar performance from Nowitzki throughout the series (25 points, 8 rebounds), he mustered just 17 points in Game 7 on 6-14 shooting.