By now you've probably heard the news about the death of Randy "Macho Man" Savage and probably heard the anecdotes that he played some minor league baseball before he donned the colorful cowboy hats and championship gold under the spotlight of the WWE.
But there are two facts that you might not know when it comes to memorabilia.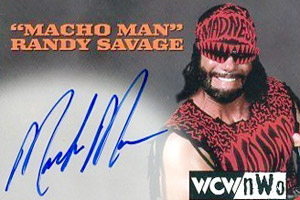 Topps Get ready to pay dearly for any Macho Man memorabilia.
One, Randy Poffo, the baseball player, never appeared on a baseball card.
Ohhh yeah?
Two, Randy Savage, the wrestler, has barely appeared on wrestling cards since his days of his delivering flying elbows and doesn't have a whole lot of recently produced memorabilia for fans to chase.
Ohhh no.
In all, Savage appears on just 103 trading cards in the Beckett.com database and just two of those carry his actual autograph. None of them include a piece of a shirt or other memorabilia he may have used in an event. (For comparison's sake, Hulk Hogan has 760 different cards, 298 of those autographed, and 104 of them include a swatch of a shirt or other item embedded into the card.)
Savage, who could easily be placed alongside Hogan, "Rowdy" Roddy Piper and Andre The GIant as a key player in the 1980s explosion of WWE onto the cultural radar, hasn't actually appeared on a single trading card since 1999 and not one bit of WWE merchandise other than a DVD compilation released in 2009 and two toys released just this year.
Last July at the San Diego ComicCon, Mattel -- the WWE's exclusive action figure licensee -- unveiled its agreement with Savage that ended his decade-plus action figure drought. Savage presented his figure to the crowd in a pre-recorded promo.
Other than those two toys, the top item fans already have been scooping up are his certified autographed cards, which were signed for card manufacturers and placed directly into packs.
His first was while he was in the WWE. It was made by Action Packed in 1994 -- a signed and intricately embossed gold-foil promo card limited to 500 serial-numbered copies. His last was made by Topps in its 1999 as part of the company's WCW/nWo Nitro set.
Before Friday's news, the Topps card typically sold for $150 or less and the Action Packed card even less. On Friday, one copy of the Topps card sold for $299.99 on eBay and a copy of the Action Packed card sold for $124.99.
Savage's agreement with the WWE and Mattel might have gotten fans' hopes up for the return of the two-time WWF and four-time WCW champ to trading cards, too. Could a Savage return be in the works?
"Sorry, no," said Topps' Jeff Zapata, who has overseen recent WWE products from the companion Friday. "I just heard about his death. Another part of my childhood gone."