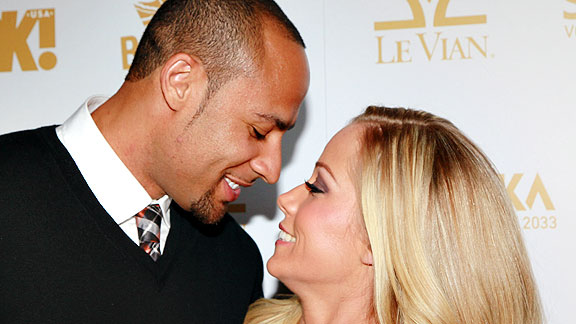 David Livingston/Getty ImagesHank Baskett and Kendra Wilkinson were in New Mexico for a charity golf tourney.
NFL player Hank Baskett and his wife, Kendra Wilkinson, returned to his home state of New Mexico this past weekend for the fifth annual "Hank Baskett III Tee'd Off About Child Abuse" golf tournament.
The event raised money for Baskett's dad's foundation, the Oasis Children's Advocacy Center, which provides services for child abuse victims.
"My dad is my hero who gets kids to open up in court to describe what has happened to them. He gives them a voice," said Baskett, who played college football at the University of New Mexico and has played four years in the NFL. "Kendra and I wanted to do what we could, to reach out to people to generate money for this worthy cause. Every dollar helps to keep this center open."
Many athletes, including Danny Granger, Sidney Rice, Pierre Garcon, Tim Jennings, Eric Cook and Ryan Cook, were among the hundreds who participated in the golf tournament at the Isleta Eagle Golf Club in Albuquerque.
"I am beyond blessed. I know I have bounced from team to team but I still never complain about what I do," said the wide receiver, who is hoping to re-sign with the Vikings this fall. "I have this opportunity to give back, and I will do that."
While Baskett is waiting for the NFL lockout to lift, he and his wife and son, Hank Baskett IV, have moved into a new home in Los Angeles. And Wilkinson, after a stint on "Dancing with the Stars", is back home furniture shopping.
"Life is good. It's family time. We're getting back to normal. Well, depending on what you call normal," said Baskett, who has been married two years now. "We're getting to spend more time together ... until the NFL lockout ends."