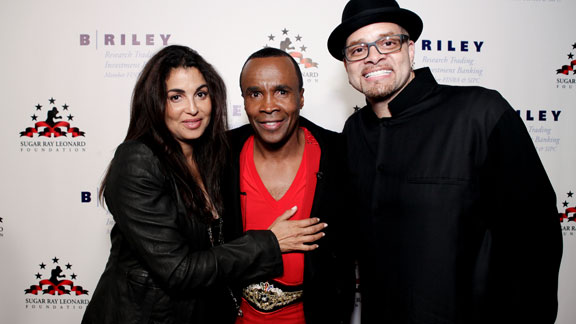 Getty ImagesBernadette Leonard, Sugar Ray Leonard and Sinbad at Sugar Ray's Charity Boxing Night.
Sinbad is alive, we're pleased to report, and standing in the center of an open-air boxing ring at Santa Monica Pier, where the forgotten '90s-era funnyman is ably MC'ing a charity fight night on a balmy Tuesday evening. The local well-to-dos appear to be enjoying his shtick, and the complimentary In-N-Out burgers, if not a fight card of no-names that nevertheless managed to draw the likes of Kris and Bruce Jenner, Kiss' Gene Simmons and Lakers forward Matt Barnes.
"I have no idea who these boxers are," Barnes admitted. "But I'm happy to be here. Juvenile diabetes research is a great cause to come out and support."
Tonight, that cause's champion is former world champ Sugar Ray Leonard, the host of this "Big Fighters, Big Cause" boxing event -- to which the legendary pugilist arrived fashionably (read: three hours) late.
"I came straight here from the 'Dancing with the Stars' studio as fast as I could," Leonard said of his appearance on the show's final episode, which saw Steelers receiver Hines Ward crowned.
Leonard, who was eliminated from the competition in April, says the best dancer won: "Hines is the man. When the cast was revealed, I remember sizing Hines up and thinking: 'I got him.' He looked big and slow. I didn't see him as a threat. But he got better, he had charisma and he became magic on the dance floor."
Leonard's turn in the spotlight continues with the June release of his autobiography, "The Big Fight: My Life In and Out of the Ring," in which he drops a bombshell: that he was sexually abused as a teenager by an unnamed "prominent Olympic boxing coach."
"I'm proud of the book," Leonard said. "It was a two-year process that took me through a multitude of emotions, regurgitating things that I went through in my life that weren't very joyous. But it was cathartic, very therapeutic. A cleansing, if you will. I'm proud of it."
Leonard, 55, hasn't decided on his next project, but he did mention one idea as a charity event.
"I'd like to fight Charlie Sheen," Leonard said. "Apparently, I punched him in the belly a few years back. I saw him a couple of weeks ago, and that's what he told me. We were messing around, and I guess I showed him who's boss. I don't remember it, though, so I'd like to punch him again. I figure I'd have the upper hand in that fight."