[Editor's note: To celebrate the anniversary of Jose Canseco's allowing a fly ball to bounce off his head for a home run, Page 2 revisits a 2008 article in which we chronicled many of the bizarre happenings of his career. Step into the time machine with us for a few minutes ... ]
Despite just releasing a follow-up to a best-selling book, Jose Canseco is apparently in dire straits financially. What else could prompt the six-time All-Star – OK, he went 0-for-8 and missed three of the games due to injuries, but still – to agree to box former NFL return whiz Vai Sikahema for a mere $5,000?
This news item scores relatively high on the Page 2 Canseco bizarro rating scale (probably four out of a possible five), which got us thinking about other Canseco incidents through the years and where they rate: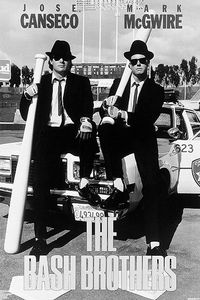 AP PhotoWe have a sneaking suspicion these guys were using more than just fried chicken and dry toast.
The elbow bash (1987)
Summary:
The home plate celebration of choice between Canseco and Mark McGwire when they were better known as The Bash Brothers in the late '80s in Oakland. While almost extinct, the elbow bash still can be seen in the wild on rare occasions – like anytime
former Yankees utility man Shelley Duncan
manages to get into a game.
Bizarro rating:


Ticketed for driving 125 mph (1989)
Summary:
Canseco was cited at 1:25 a.m. on Interstate 95 in South Florida in his famed metallic-red Jaguar XJS, making him baseball's only 40-40, 125-1:25 man. The following day, Canseco reportedly signed a blank ticket for a police officer at an autograph show. He told the Sporting News he added "140" after his signature. "That's how fast I was really going," he said as the officer and fans laughed.
Bizarro rating:



Arrested for gun possession (1989)
Summary:
Canseco was arrested two months later in San Francisco for carrying a loaded gun in the same car. He subsequently lost an endorsement from the California Egg Commission, which canceled a TV commercial in which the slugger said, "Eggs are a terrific source of protein, and protein means power. You know what I do with my power."
Bizarro rating: