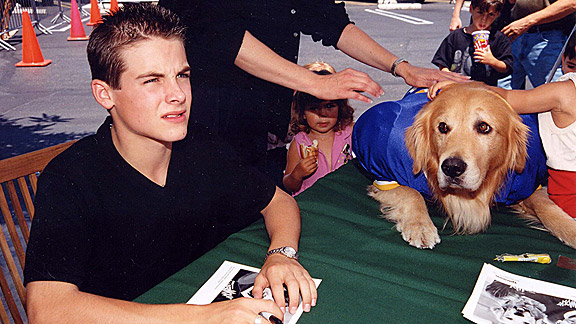 Jeff Kravitz/FilmMagic/Getty ImagesActor Kevin Zegers and Air Bud hang out for the premiere in 1998. Page 2 readers weren't fans.
You really do not like bad sports movies. In many instances, you don't even like the good sports movies, few as there are. But the really bad ones -- they're special.
We asked you to name the real stinkers to create this week's reader-generated list: "Top 10 Worst Sports Movies Ever." Hundreds of replies cast votes for 138 flicks, so the range of your dislike is wide.
(And a special salute to David Spade. Apparently you hate every movie he's ever been in although that begs the question as to why anyone pays to see them. Shouldn't his name be an adequate warning?)
We have additional comments to make but shouldn't be a tease. So let's get to the list -- and pay special attention to No. 8 because I could not be happier.
Top 10 Worst Sports Movies Ever
10. "The Replacements" -- "Keanu Reeves leading a football team is as credible as Plaxico Burress teaching a gun safety class," said Steeve -- yes, with 2 e's -- P. of Ashford, Conn.
9. "Over the Top" -- "Sly Stallone. Really? Arm wrestling? Really? Need I say more?" said Lee C. of Westhampton, Mass.
8. "Rudy" -- "Thank you, Mr. Greene, for exposing this movie to be the worst of sentimental sap," said Jonathan H. of Washington, D.C. (Yes! Thank you for everyone who voted. Our work here is done.)