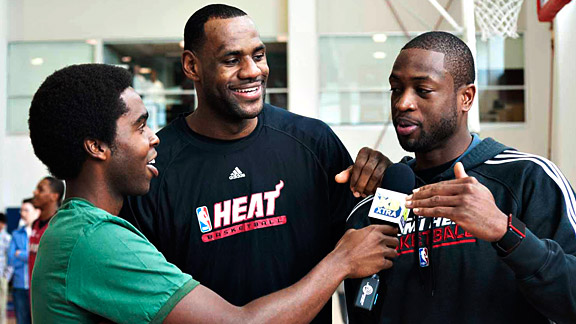 DisneyDisney star Daniel Curtis Lee talks with LeBron James and Dwyane Wade of the Miami Heat.
Starting Sunday, Disney XD will air segments with actor Daniel Curtis Lee of "Zeke and Luther" interviewing NBA superstars such as Dwyane Wade and LeBron James about life on the court and off.
For the past couple of weeks, Lee has traveled to various NBA playoff games to talk to the Heat players, Kevin Durant of the Oklahoma City Thunder and Derrick Rose of the Chicago Bulls, among others.
"All the guys were super chill. It was crazy meeting all these players. They answered all my questions," said the 20-year-old Lee, who was the captain of his high school football team. "It wasn't really like work for me. It was almost like a vacation. I have mad respect for these guys."
Disney XD is a basic cable channel and multi-platform brand showcasing a compelling mix of live-action and animated programming for kids ages 6 to 14, especially targeting boys and their quest for discovery, accomplishment, sports, adventure and humor. "Zeke and Luther" is a sitcom about two best friends hoping to be great skateboarders. Lee plays No. 1 rival Kornelius "Kojo" Jonesworth.
The first NBA spot will appear at 9:57 a.m. Sunday.
"One thing about talking to athletes is that they don't lollygag around. They respond quickly to every question and are straight to the point," said Lee, who was born in Mississippi before moving to California and making it in Hollywood. "Can I give a shoutout to Rose? He was the only athlete who didn't even want to talk about himself. OK, there you go, Derrick. I'm out."