Welcome back to another edition of Page 2 Jeopardy!, the quiz that tests your knowledge of sports, pop culture and assorted trivia. Please remember to phrase your responses in the form of a question.
(Correct questions at the end of the quiz.)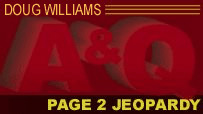 1. Answer: Before Jason Lee got his starring role in TV shows "Memphis Beat" and "My Name is Earl," he was a pro in this sport.
2. Answer: Two other former players at little University of San Diego were head coaches in the NBA before Mike Brown, the new coach of the Lakers.
3. Answer: He's tied a major league record by going 28 straight starts without a win, dating to June 2008, but says, "It's almost funny now. If I do everything that I'm supposed to do, it'll come."
4. Answer After being ousted in the second round of the French Open, she said, "I am sad that my body let me down," explaining that she's having trouble adjusting to a new gluten-free diet.
5. Answer Feats on clay in Paris have earned this silver cup for such champions as Bjorn Borg, Andre Agassi and Rafael Nadal.
Question 1: What is skateboarding?
Question 2: Who are Bernie Bickerstaff and Eric Musselman?
Question 3: Who is Jo-Jo Reyes?
Question 4: Who is Sabine Lisicki?
Question 5: What is the Coupe des Mousquetaires trophy?