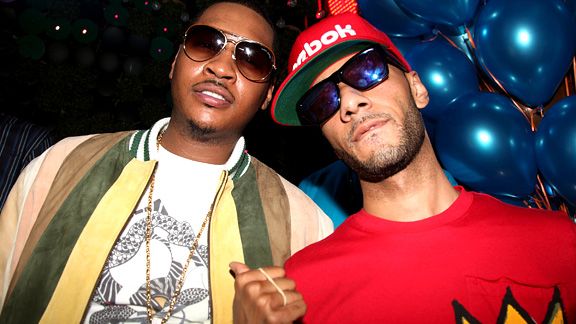 Johnny Nunez/WireImageCarmelo Anthony and Swizz Beatz celebrate Anthony's birthday at Greenhouse in New York.
Carmelo Anthony's birthday cake arrived after midnight the night of his 27th birthday party at New York club Greenhouse on Friday morning, two days before his actual birthday on May 29. There was still no Carmelo and there were rumors he wasn't going to show. After all, Amare Stoudemire was on the list and was apparently in Los Angeles along with his girlfriend Ciara and Anthony's wife, LaLa Vasquez, who was also on this list but rumored to not be in the city. That didn't seem to matter. If Anthony was nowhere to be found, his birthday party was going on without him.
The cake, created by baker Ilene Miriam, was molded into a navy blue Knicks gym bag with Anthony's bright royal blue number seven jersey draped over it, with vanilla with Baileys Irish Butter Crème icing inside. It had arrived at 12:30 a.m., just before cast members from VH1's "Love & Hip Hop" arrived.
So how does one get into Carmelo Anthony's birthday party?
"I came in with a promoter," explained Dana Pallotta, a Jersey girl and regular at Greenhouse who found out about the party on Facebook. "It's usually free but they made me pay $20 because it's considered a special event."
And if Anthony never shows?
"How am I gonna feel? Some clubs you have to pay $20 either way," she shrugged.
At least the atmosphere of Anthony was in the air.
Half a dozen female waitresses and workers were dressed in tight sleeveless No. 7 jerseys, picked up from the Madison Square Garden gift shop as a last-minute request from Greenhouse owner Barry Mullineaux.
"We just planned everything yesterday," Mullineaux said. "It was a conversation with Carmelo's brother Justice and his best friend David. He throws a birthday event every year and they were planning on going to Miami or L.A. and they weren't sure, but last minute they decided they wanted to do something in New York before they went away."