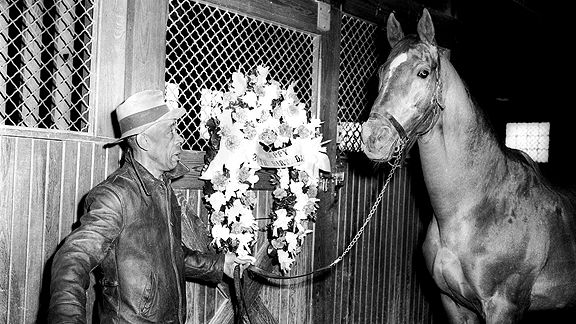 AP Photo/Martin JesseeGroom Bob Groves leads Man O' War outside the stables near Lexington, Ky.
Here's to our men and women in uniform, whose courage transcends the head-first slide, the step-back 3-pointer and even the lunging tackle on fourth-and-one. On Memorial Day, we present the All-Military Team:
Kenny Battle: After two seasons of basketball at Northern Illinois, Battle requested a transfer to a new unit and got his better gig when the Illinois Fighting Illini of the Big Ten took him in. He was worth it, averaging 16 points a game and helping his team to the 1989 Final Four.
Man o' War: August Belmont, son of the New York banker and part of the family for which Belmont Park would be named, joined the U.S. Army at age 65 and was serving in World War I in France when a horse was born back in Lexington, Ky. As a tribute to her husband, Belmont's wife named the stallion "Man o' War." The Belmonts liquidated their stable in 1918 and in 1920, Man o' War's new owners declined to run him in the Kentucky Derby. This seems absurd by modern standards, but consider the context -- the Derby was run only 10 days before the Preakness, and the U.S. highway system hadn't been broadly developed yet. Neither had the phrase "Triple Crown." Nobody knew what to make of the fact that Sir Barton had won the Derby, Preakness and Belmont Stakes a year before, in 1919.
Major Parker: For a while, the Florida Gator basketball player justified the name, serving as captain of the team that went to the NCAA title game in 2000. In December of 2004, however, "major" didn't begin to describe his problems. Then a special assistant to Gators coach Billy Donovan, he was charged with selling a pound of cocaine (approximate street value of $12,000) to an undercover cop. He pleaded guilty and was sentenced to six months of house arrest.
Colonel Snover: Here's a guy who should have gotten promoted. Or at least given a better shot. Snover's career line: one earned run in nine innings pitched. The 1919 New York Giant is one of only two people in MLB history to post a losing record (0-1) for a career while allowing one or no earned runs in nine or more innings of work.
Tank Tyler: Many things about DeMarcus Lamon Tyler suggest size. He was born in Cotton Plant, Ark., and, like most NFL defensive tackles, he checks in at more than 300 pounds. Of course, like many military-football analogies, this one's overblown. The truth is that you'd need about 453 Tylers to equal the weight of one M1 Abrams tank (68 tons). Tyler, a former Kansas City Chief and Carolina Panther, will try to catch on with the Chicago Bears when and if the NFL lockout ends.