INDIANAPOLIS -- In Season 7 of HBO's "Entourage," Vincent Chase crashes his car in an action movie he's starring in. Instead of being shellshocked and scared, he feels invincible and seeks out new thrills.
The same thing can be said for actor Adrian Grenier, who plays Chase in the popular series, which ends its run this summer.
"I have this need for speed. On the show this season, I ran about 180 mph on a track in Los Angeles. I just really like the fast cars," said Grenier, who made a trip to Indianapolis for Sunday's 100th anniversary of the Indianapolis 500. "I prefer IndyCar over NASCAR. I just like the look of the cars and how fast they go. It's more my style."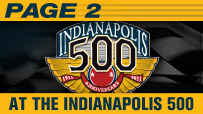 Grenier was among the 200 people at the IZOD & Spin Magazine Welcome Reception for Race Weekend on Friday night. He was there to grab some grub but also race go-karts. He actually was one of the top five drivers of the night.
One fan said, "If you crash, will you want some eco-burial?"
The funniest moment was when Grenier emerged from the car in his racing suit and helmet, and fans wanted to take his photo.
"Man, I have helmet hair," Grenier said as he pulled it off for photos.
Review of IZOD & Spin Magazine Welcome Reception
Why that title? IZOD, about a year and a half ago, took over title sponsor of the IndyCar Racing Series and has revived its brand. Spin is a music magazine founded in 1985 by publisher Bob Guccione Jr.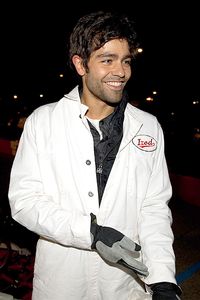 Robert Laberge/Getty ImagesActor Adrian Grenier wears a fire suit after taking part in a go-kart race at the IZOD and Spin Magazine 100th Anniversary Indianapolis 500 Welcome Party.
When and where: NK Hurst Bean Company in Indianapolis, Friday night. The company was established as a family business in 1938, beginning a long history in the food business with the trading and distribution of sugar. Since 1948, Hurst became a packager of edible dry beans.
Performers: HoneyHoney, a bluegrass/folk rock band from California.
Celebrities we saw: More than 200 people were there for the party and most of the celebrities mingled with the masses. Grenier was there, along with actors Tim Daly and Mekhi Phifer. MMA star Tito Ortiz was there, too. Drivers Helio Castroneves, Will Power and Scott Dixon were in the house. The biggest "I know that guy from somewhere" went to character actor Christopher McDonald. A lot of people kept screaming his name in the 1996 movie "Happy Gilmore"-- "Hey, is that Shooter McGavin?" McDonald would turn around and give a smile and wave. I said, "Tired of that?" He said, "What are you going to do to stop them?"
Celebrities who were confirmed but we didn't spot: More drivers were expected but it's understandable why they might want to get some rest before Sunday's race.
Overheard: A lot of people were enamored with a former Miss Indiana, who was serving as a hostess for IZOD. Granted, she didn't do much talking. It was her coworkers who said to Ortiz, "You know that she's the former Miss Indiana?" He said, "Really?" And then he walked away.
Food factor: Lots of food and drink from pulled pork sliders to scallops to fancy caramel corn and lollipop ice cream. Most of the food was gone before the three-hour party was up. Plenty of drink was still at hand. Nice couches outside, and free cigars for everyone.
Best party clothes: Most people were dressing casually since you had a chance to race go-karts and play ping-pong, but there were several models wearing racing suits.
Worst party clothes: It is an old bean factory, and the band was playing bluegrass and folk music. Some women must have thought they were pulling up to Jay-Z's 40/40 Club in New York City.
What would a racing fan think? With historic displays of classic Indy Cars, food and drink stations everywhere and the chance to race a go-kart against "Entourage's" Vincent Chase, there were no wrecks as we headed to the checkered flag.