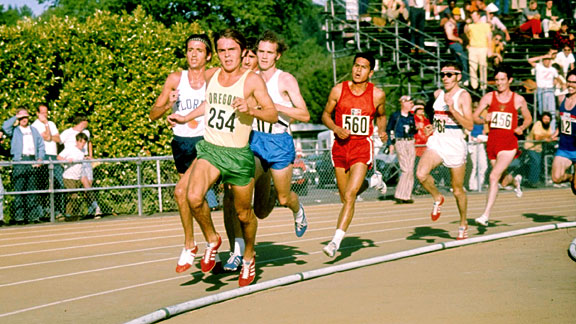 Getty ImagesSteve Prefontaine's run-from-the-front style served him well at Oregon.
EUGENE, Ore. -- University of Oregon track coach Vin Lananna had just arrived home late after a night meet last year when there was a knock at the door. It was someone seeking directions to Pre's Rock, the site of Steve Prefontaine's fatal car crash in 1975. The person simply had to see it before leaving Eugene early in the morning.
Lananna has grown used to this. He lives near Pre's Rock and several times a year people will appear at his doorstep asking for directions.
Pre's Rock is a must-see for any visit to Eugene. Just be sure to leave adequate time so you're not scrambling to find it and knocking on doors for directions just before it's time to go home.
Eugene offers so many tempting diversions you'll need the stamina of a distance runner. In fact, as I drink an aromatic Tricerohops beer at the Ninkasi brewery, I regret I didn't properly train for this trip. The sun is setting and a delightful evening of possibilities awaits. But I simply don't have enough left in my tank or, more importantly, room enough in my stomach.
A great college town, Eugene is filled with brewpubs, near world-class wineries and a short drive from the Cascade Mountains and the spectacular Pacific Coast. Thanks to all that, Eugene is another sublime Road Warrior combo-destination for sports fans and their significant others who prefer Manolo Blahnik heels over Nike waffle soles (invented, of course, right here by legendary coach Bill Bowerman). Call this another in our series of Sports Trips in Disguise for the sports fan whose partner is a nonfan.
I could go on and on, but I would risk the University of Washington revoking my degree if I praise Eugene too much.
With apologies to Oregon football fans (actually, on second thought, I offer no apologies to Oregon football fans ... ever), the best time to appreciate the essence of Track Town USA is during a major meet at historic Hayward Field, where a life-size bronze of Bowerman stands vigil, stopwatch in hand and feet fittingly planted on a waffle iron. You can either mark your calendar for 2012's U.S. Olympic Team Trials in track and field or you can go next week -- and every June -- to the annual Pre Classic.