Scott Dixon won the Indianapolis 500 in 2008 and had the fastest practice on Friday, so he can take a little ribbing now and then.
So check out this video that a TV station in his home country of New Zealand put together to show that Dixon's rise to the top wasn't necessarily smooth.
"Yes, I was a fat little kid," Dixon said. "That's a funny part of the video."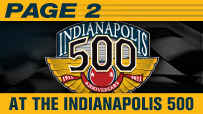 Hey, Scott, there was something even funnier.
See, Dixon, 30, was born in Australia to New Zealand parents Ron and Glenys Dixon, who were dirt race car drivers. The family returned to New Zealand when Dixon was young. He began racing karts at 7 and was granted a special dispensation to obtain a competition license to race a car at 13.
During one race when his Nissan Sentra rolled onto its roof, Dixon jumped out of the car. TV cameras captured him with a cushion strapped to his backside because he was too small to reach the pedals.
Now, times have changed. Dixon isn't the chubby little kid anymore. He's won more than 20 IndyCar races and is a favorite on Sunday.
So, anything embarrassing we should know about these days? Yes, we know you love "Pulp Fiction" and buying watches.
"Well, on race day, my wife makes me pancakes for good luck," Dixon said. "She can't come to every race. But when she does, she makes me those lucky pancakes. She's here for Sunday's race."
We'll see if it works.