Sometimes the really big stories just get overlooked. That happened this past week when the world ignored the biggest sports scandal of Modern Times -- the balls may be juiced at the French Open!
Oh, the shame.
Player Novak Djokovic was quoted as saying the balls "are very, very fast, so it's really difficult to control."
The balls used to be from Dunlop, but this year they are from a different company, Babolat. Officials say the balls are the same, but one official admitted that Dunlop claims its balls have "14 special ingredients."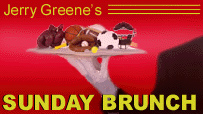 Makes you wonder how many special ingredients are in Babolat balls.
I'm just sayin'.
Enough with the scandal. Let's examine a few other bon mots from the week before we get to the main dishes in this Memorial Weekend Sunday Brunch:
• We can neither confirm nor deny that NFL ownership has contacted Barcelona about playing in the first Replacement Super Bowl against the Plaxico Burress Prison All-Stars.